News
The Women's Leadership Programme – taking female leaders to the next level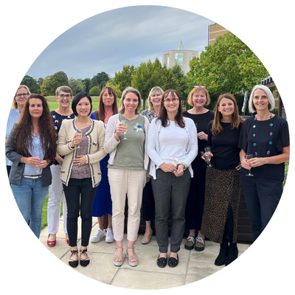 I'm really excited about the 2023/24 Women's Leadership Programme, which starts in September. That's not just because I'm one of the facilitators – it's because I've also taken part in it. So I understand exactly how much value it brings, both to the individuals that attend, and the organisations that employ them.
For me, attending the Women's Leadership Programme was such a transformative learning experience. I had the privilege of meeting other like-minded women who were all looking to develop their careers. It also helped me build my confidence, silence my inner critic and find my voice. Plus, I developed my leadership skills and expanded my network of amazing female leaders.
Fast-forward to 2023 and I'm so proud to be providing a safe space for other women to do the same. I'm pleased to say it works too – of the more than 120 women who've been through our programme, well over half have moved to bigger roles within their organisations.
Why women only?
Female leaders often have a very different experience to their male colleagues. And studies show that women who support women in programmes like ours are more likely to get executive positions. That's because sharing experiences and building connections with other professional women gives us tools to overcome the cultural and systemic hurdles (like unconscious bias) we face while trying to get into leadership positions.
Our programme is good for businesses too. Sponsoring female staff members to attend helps develop leaders of the future and build more diverse boards – and companies with more women on the board outperform those that don't by a significant amount. That's a fact.
How it works
The programme takes place over four days (two in September 2023 and two in January 2024). I run it with the wonderful Christina Youell, owner of People & Performance Ltd, who's been part of the programme since day one. It's a combination of group discussions and coaching sessions, and includes real-life case studies, psychology models and psychometrics.
We also have a team of wellbeing experts who'll come and talk about mindfulness, resilience and stress management. And Lynn Walters, our very own Pure Director (and co-founder) will be facilitating a session around ways to be more strategic at work, with real-life examples.
Want to find out more?
Head to womeninleadership.prs.uk.com to see how the programme could make a difference to you, and read these success stories. You can also find out more about how it benefits organisations.